One-Time Donation
Monthly Support
To support us financially you can make a donation by clicking the Donate buttons above. If you would like to send a check, please make checks payable to "Gottalife" with BulldozerFaith on the back and send to:
Gottalife Ministries, 3000 S Hulen Street, Suite124 PMB 2071, Fort Worth, TX 76109
Giving with Zelle – email address admin@bulldozerfaith.com
By Bank Transfer:
USA – Bank of America
Account Name: Gottalife Ministries Inc.
Account Number: 237034425741
Routing Number: 053000196
Swift Code:BOFAUS3N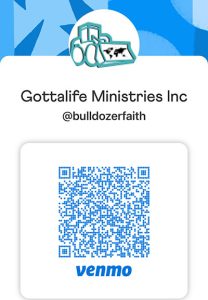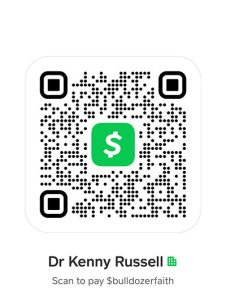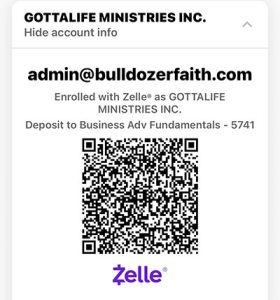 USA Donations by
               Venmo and                                Cash APP                                          and Zelle –                        admin@bulldozerfaith.com 
https://cash.app/$bulldozerfaith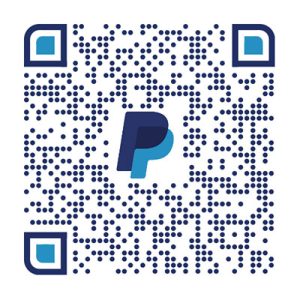 PayPal Giving – https://paypal.me/bulldozerfaith

Giving Testimony: GottaLife has been a great blessing to me from God. It is a blessing to me to be able to support what you and your wife are doing, and know that I am contributing to God's work and therefore to the other people to whom you are ministering through your radio and other ministries.